Architectural Trends: Looking Back and Predictions for 2018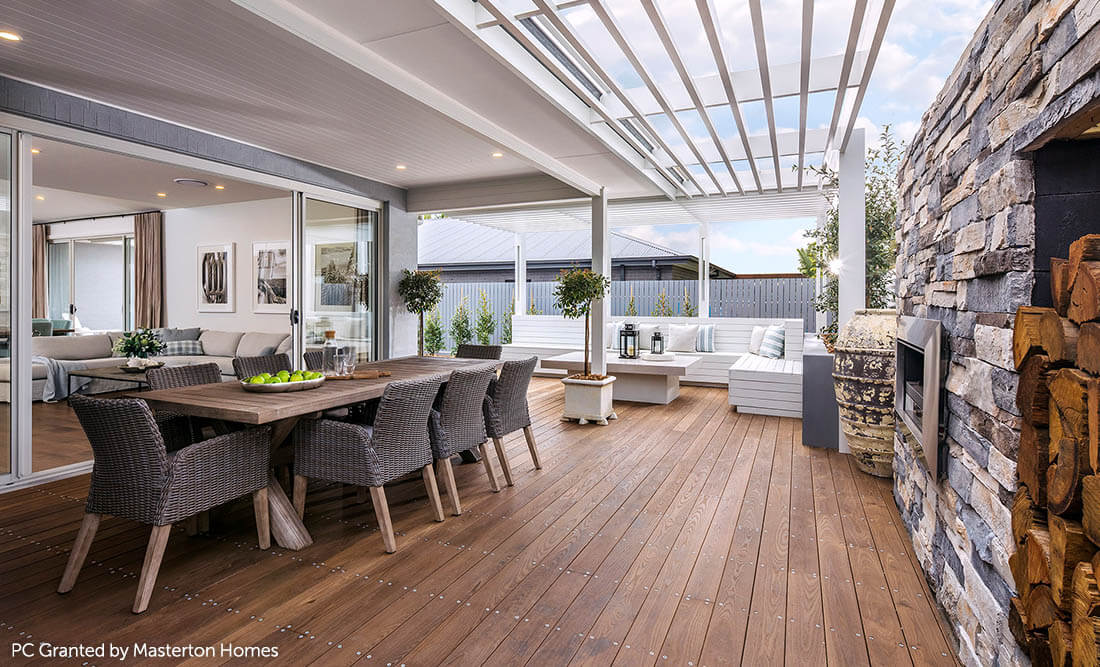 The architectural trends of 2017 were all about modern, warm eco-architecture. While sustainable building and design still reign supreme, residential design trends for the new year lean toward even more innovative modern design and striking hues of color.
Looking Back at Architectural Design Trends of 2017
Taupe was the new gray.
While white (and all its variations) has long been the most popular paint color due to its flexibility, cool grays have been on trend in modern house design for a couple of years now. In 2017, however, gray started getting upstaged by its warmer neutral cousin—taupe. In fact, Sherwin-Williams named its Poised Taupe as color of the year. Last year, taupe started showing up everywhere, indoors as well as out.
While gray offers an easy neutral design palette, it doesn't offer the warmth and natural feel of taupe. Taupe helps architects and builders create a "home as sanctuary" environment while also meshing with the continued emphasis on earth-friendly design. Taupe easily carries both the cozy feel of warm earth tones while exuding the careful elegance of a blank palette that will meld with many design schemes. What better way to complement natural materials and organic architecture than with a soft taupe canvas?
Cultured Stone's natural color palettes of smooth and textured stone veneers played easily into the trends, offering everything from the transitional warm French Gray of Cast-Fit with its decidedly modern aura to the versatile and varied color gradations of Country Ledgestone.
Warmer and textured surfaces made a comeback.
Along with warmer paint colors like taupe, 2017 also saw renewed interest in earth tones and textures throughout the home. Cork made a comeback as a flooring material, and many designers began using it on walls and in furniture, too. British designer Ilse Crawford's new SINNERLIG collection for IKEA is a prime example.
At Cultured Stone, we've responded to these home décor trends with a full line of color palettes spread across a variety of stone profiles that offer designers, builders, and homeowners the flexibility to transition from cool grays to the warmer tones of options like Sevilla Country Ledgestone and Talus Hewn Stone.
Designers also extended the natural, textured appeal to home furnishings and accessories with rustic wood dining, cocktail, and accent tables and even light fixtures, according to Architectural Digest.
What's In Store for 2018?
Shifting palettes: More color, less neutral
Cool and earthy neutrals will be heading out the door in 2018, if Sherwin-Williams' new color of the year is any indication. Color trends are going to be sharper and feature rich blues and blue-greens reminiscent of marine environments. In fact, the Pantone Color Institute predicts a year of vibrant colors like berries and purples and eggshell blue, as well as mixes of blues and oranges and the addition of some playful hues like bright yellow and lime.
There's nothing neutral about the jewel tones that will be trending this year in walls, accent pieces, furnishings, and even built-ins. Expect to see not only jewel tones but rich textures like velvet making their way into the design scene.
Gliding into this mix of eye-popping hues is Cultured Stone's new Sculpted Ashlar with its clean lines, a popular trend in contemporary architectural design. It also offers the kind of tumbled surface that creates shadowing and color gradations that are not only well-suited to a more traditional residential design scheme but also to the new color trends of modern home décor. Sculpted Ashlar's surfaces, available in three color schemes, offer the tone depth and nuance to pick up this year's new jewel tones while also adding the rugged texture of natural stone.
Modernism expands its reach.
Despite the richer colors designers predict in 2018, architects indicate contemporary style is still going to dominate in new-home design and renovations. Cultured Stone's dry-stack styles of manufactured stone have been growing in popularity as architects look for cleaner lines in masonry features. And while dry-stack manufactured stone isn't new, Cultured Stone does provide some unique offerings on the concept.
Country Ledgestone with its larger-profile dry-stack look proved most popular last year, but this year Pro-Fit Alpine Ledgestone is assuming the spotlight. Withshades ranging from the winter white of Winterhaven to the noir-gray of Dark Ridge, this profile has found increasing demand among design-build teams, due in part to its thinner, more modern profile and starker colorings.
Related Reading: Green Building Materials: 5 sustainable Resources for Your Next Project
A big part of the contemporary trend is minimalism with its philosophy of improved quality of life through cleaner, more open spaces and an absence of clutter. According to Interior Design magazine, part of this trend is the layering of monochromes—using varying shades of the same hue to create a highly sophisticated look.
Cultured Stone's Pro-Fit Modera Ledgestone, which launched two years ago, has gained prominence among architects looking for a more dimensional façade for fireplaces, feature walls, and outdoor settings. Available in three colors, this profile provides striking shadowing, a smooth texture, and is well-suited to monochrome interior design. Pro-Fit Terrain Ledgestone offers the same type of dimensional façade as Modera but with more texture, while Hewn Stone offers another take on monochrome styling in a larger profile with rougher texturing.
What makes Cultured Stone's products particularly suited to contemporary style is the precision cut of the masonry profile, something that can't be achieved in natural stone.
Open-space design is here to stay (and becoming more innovative).
While large, open-space design that encourages mingling of cooking, entertaining, and family spaces has dominated residential architecture for the last few decades, the trend is becoming all the more innovative in both residential and commercial architecture. (Consider the current trend of co-working spaces, for example.)
To make open spaces work, however, they need both a sense of welcome and a design flow that makes sense, practically and aesthetically.
Architects and designers are becoming increasingly conscious of defining the various segments of these open spaces, both to keep vast rooms from looking flat and uninspiring as well as to designate different living or working zones. To accomplish this, designers incorporate changing floor levels, a change in surface colors and textures, islands, furniture groupings, and lighting to add visual interest and an organization of space.
While stonework, natural or manufactured, can play a major role in the definition of individual spaces within an open-space framework, manufactured stone provides a simpler and more sustainable option. Manufactured stone is a more versatile design component for architects and builders, offering an easier installation process and providing an earth-friendly alternative to natural stone.
Recommended Resource: Use the Beginner's Guide to Manufactured Stone Veneer to compare the styles and cuts of different stone building materials.
June 5, 2018

Green building has hit the mainstream. How can you incorporate more eco-friendly building materials into your ne...

Read Now

---

Use of Continuous Insulation Helps Industry Move Closer to Sustainability Cultured Stone® Evaluated and Approve...

Read Now

---